The Sound of the Cities 1976
may 1976
By Ed Sciaky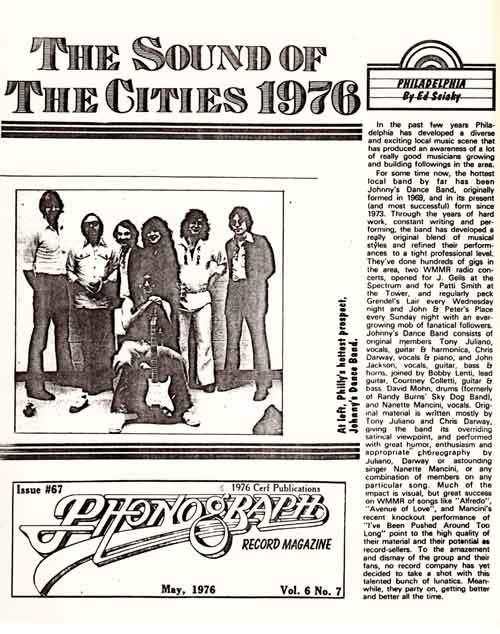 In the past few years Philadelphia has developed a diverse ' and exciting local music scene that has produced an awareness of a lot of really good musicians growing and building followings in the area.
---
For some time now, the hottest local band by far has been Johnny's Dance Band, originally formed in 1969, and in its present (and most successful) form since 1973. Through the years of hard work, constant writing and per-forming, the band has developed a really original blend of musical styles and refined their performances to a tight professional level. They've done hundreds of gigs in the area, two WMMR radio con¬certs, opened for J. Geils at the Spectrum and for Patti Smith at the Tower, and regularly pack Grendel's Lair every Wednesday night and John & Peter's Place every Sunday night with an ever¬growing mob of fanatical followers.
---
Johnny's Dance Band consists of original members Tony Juliano, vocals, guitar & harmonica, Chris Darway, vocals & piano, and John Jackson, vocals, guitar, bass & horns, joined by Bobby Lenti, lead guitar. Courtney Colletti, guitar & bass David Mohn, drums (formerly of Randy Burns' Sky Dog Band), and Nanette Mancini, vocals. Original material is written mostly by Tony Juliano and Chris Darway, giving the band its overriding satirical viewpoint, and performed with great humor, enthusiasm and appropriate choreography by Juliano, Darway or astounding singer Nanette Mancini, or any combination of members on any particular song.
---
Much of the impact is visual, but great success on WMMR of songs like "Alfredo", "Avenue of Love", and Mancini's recent knockout performance of "I've Been Pushed Around Too Long" point to the high quality of their material and their potential as record-sellers. To the amazement and dismay of the group and their fans, no record company has yet decided to take a shot with this talented bunch of lunatics. Mean¬while, they party on, getting better and better all the time.