New Acts
New York, Wednesday, February 4, 1976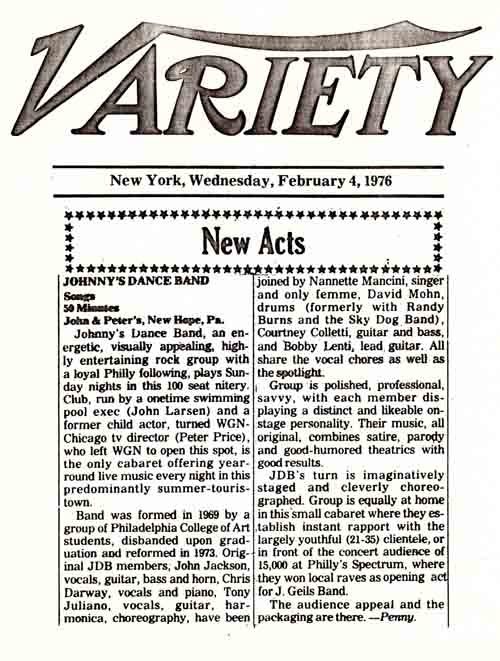 Johnny's Dance Band, an energetic, visually appealing, highly entertaining rock group with a loyal Philly following, plays Sunday nights in this 100 seat nitery Club, run by a onetime swimming pool exec (John Larsen) and a former child actor, turned WGN-Chicago tv director (Peter Price), who left WGN to open this spot, is the only cabaret offering year-round live music every night in this predominantly summer-touristown.

---
Band was formed in 1969 by a group of Philadelphia College of Art students, disbanded upon graduation and reformed in 1973. Original JDB members, John Jackson, vocals, guitar, bass and horn, Chris Darway, vocals and piano, Tony Juliano, vocals, guitar, harmonica, choreography, have been joined by Nannette Mancini, singer and only femme, David Mohn, drums (formerly with Randy Burns and the Sky Dog Band), Courtney Colletti, guitar and bass, and Bobby Lenti, lead guitar. All share the vocal chores as well as the spotlight.
---
Group is polished, professional, savvy, with each member displaying a distinct and likable onstage personality. Their music, all original, combines satire, parody and good-humored theatrics with good results.
---
JDB's turn is imaginatively staged and cleverly choreographed. Group is equally at home in this small cabaret where they establish instant rapport with the largely youthful (21-35) clientele, or in front of the concert audience of 15,000 at Philly's Spectrum, where they won local raves as opening act for J. Geils Band.
---
The audience appeal and the packaging are there. —Penny.