Magic Was on the Stage
Tuesday, April 6. 1976
By Al Walentis, Reading Eagle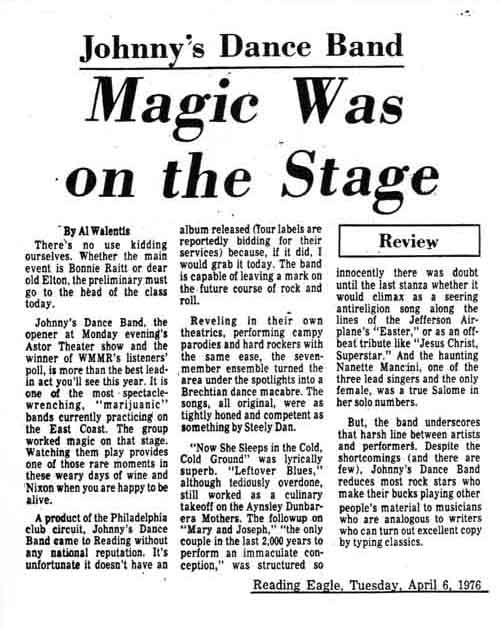 There's no use kidding ourselves. Whether the main event is Bonnie Raitt or dear old Elton, the preliminary must go to the head of the class today.
Johnny's Dance Band, the opener at Monday evening's Astor Theater show and the winner of WMMR's listeners' poll, is more than the best lead-in act you'll see this year. It is one of the most spectacle-wrenching, "marijuanic" bands currently practicing on the East Coast. The group worked magic on that stage. Watching them play provides one of those rare moments in these weary days of wine and Nixon when you are happy to be alive.
A product of the Philadelphia club circuit, Johnny's Dance Band came to Reading without any national reputation. It's unfortunate it doesn't have an album released (tour labels are reportedly bidding for their services) because, if it did, I would grab it today. The band is capable of leaving a mark on the future course of rock and roll.
Reveling in their own theatrics, performing campy parodies and hard rockers with the same ease, the seven-member ensemble turned the ' area under the spotlights into a Brechtian dance macabre. The songs, all original, were as tightly honed and competent as something by Steely Dan.
"Now She Sleeps in the Cold, Cold Ground" was lyrically superb. "Leftover Blues," although tediously overdone, still worked as a culinary takeoff on the Aynsley Dunbar-era Mothers. The followup on "Mary and Joseph," "the only couple in the last 2,000 years to perform an immaculate conception," was structured so innocently there was doubt until the last stanza whether it would climax as a seering antireligion song along the lines of the Jefferson Air¬plane's "Easter," or as an offbeat tribute like "Jesus Christ, Superstar." And the haunting Nanette Manconi, one of the three lead singers and the only female, was a true Salome in her solo numbers.
But, the band underscores that harsh line between artists and performers. Despite the shortcomings (and there are few), Johnny's Dance Band reduces most rock stars who make their bucks playing other people's material to musicians who are analogous to writers who can turn out excellent copy by typing classics.